VIOLA SOUTH AFRICA (PTY) LTD is a jobbing facility specialising in the design, manufacture, testing and supply of:
Certified pressure vessels for refrigeration, power generation, petro-chemical, mining brewery and general industrial industries.
Large storage tanks, with and without special lining
Air receivers, air driers and filtration vessels
Custom-made heat exchangers and chillers
Transfer vessels and silos
Air Header and Immersion tanks
Pressurised Foam vessels for Fire Prevention Industry.
Basic structural framework and piping fabrication to support above products
Industrial, architectural and decorative steel projects to customer specifications eg. Firepits, sculptures and specialised shop fittings etc.
We can also assist with designs and manufacturing of new and innovative custom products.
Air Receivers
VIOLA designs and manufactures standard and custom air and nitrogen receivers for all industries. Ranging from 10 to 180 000 litres, air receivers can be manufactured in both vertical and horizontal configurations. The working pressures can range from full vacuum up to 8 000 kPa, and you can always rely on us to have a standard range in stock or available with short lead times. VIOLA's standard air receiver ranges (100 to 10 000 litres) are also pre-designed and AIA approved for manufacture, therefore having no design cost impact on the customer.
DEFINITION:
Tanks used for compressed air or nitrogen storage – recommended for use in all compressed air systems.
APPLICATION:
Decrease wear and tear on the compression module, capacity
Control system and motor by reducing excessive compressor cycling and eliminating pulsations from the discharge line.
Reduce dew point and temperature spikes that follow regeneration.
Contribute to reduced energy costs by minimizing electric demand charges associated with excessive starting of the compressor motor.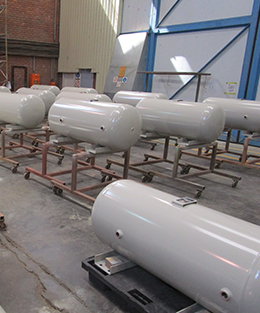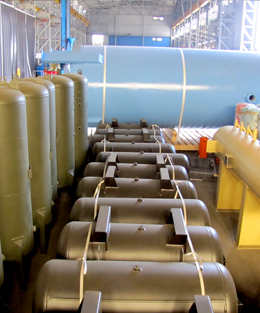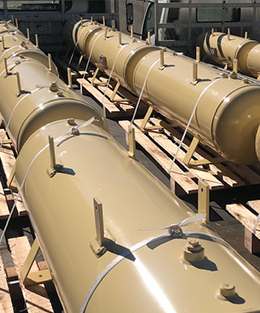 Pressure Vessels
VIOLA has a world of expertise in the design and production of high-quality pressure vessels. Our engineering department operates internationally recognised design programmes (PV Elite, VVD) which cover most types of custom pressure vessels available in carbon and stainless steel. We can also fabricate to customer designed equipment.
DEFINITION:
A closed container designed to hold gasses or liquids at a pressure substantially different from the ambient pressure.
APPLICATION:
Used in a variety of applications in both the industrial and the private sector
Can be used in various pressure requiring applications such as, elution columns, oil filters, pressure pots, firefighting foam storage tanks and vessels for LPG storage and many others.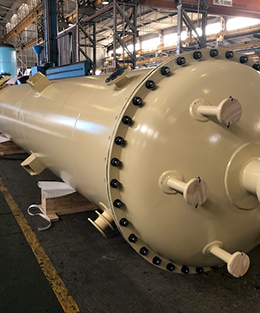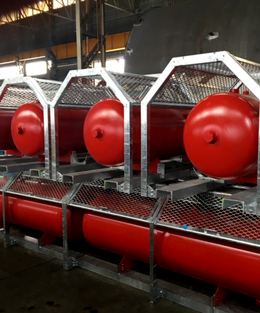 Refrigeration Vessels
Our team of experts builds specialised refrigeration vessels according to every client's exact specifications, because we realise the need for custom design in industrial refrigeration systems. We have produced numerous surge drums, liquid receivers, accumulator drums, separators, de-superheaters, buffer tanks and oil pots (both Category 1 and 2) for the NH3, CO2, R22, R134a, and other common refrigerant applications.
DEFINITION:
A closed container designed to hold refrigerant gases or liquids at a pressure and temperature substantially different from ambient conditions.
APPLICATION:
Generally used for industrial refrigeration plants such as large and small cold storage facilities, air conditioning for mining, brewery and cool drink production, and so forth.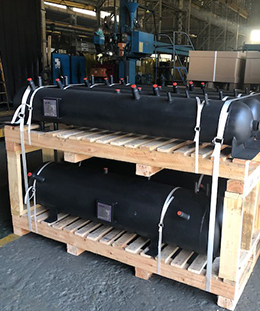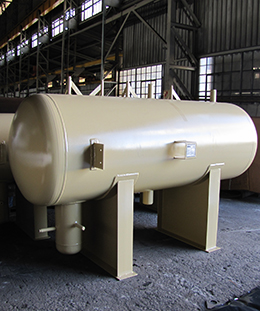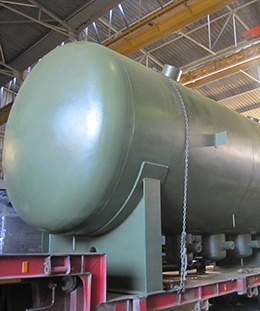 Water Filtration Vessels
We design and manufacture specialist water filtration vessels. from sand filters and carbon filters, to ion and cation exchangers, buffer and saturator tanks, and demineralisation filters – no matter what type or size of vessel you require, we have the skills and expertise to assist.
DEFINITION:
Water filtration vessels are used in the water purification process. These vessels are normally fabricated with internal filter plates, domes or piping which are then fitted with a variety of filter nozzles or filtration media to achieve the desired result.
APPLICATION:
These vessels are used in a variety of sectors from breweries, municipal, private and mining applications where water treatment is required. This can be from standard sand filtration to reverse osmosis plants.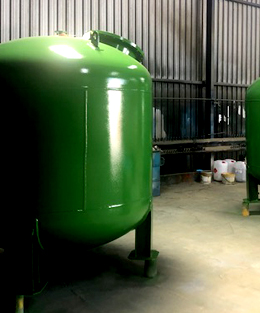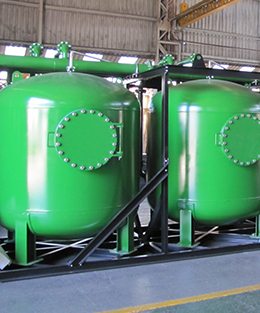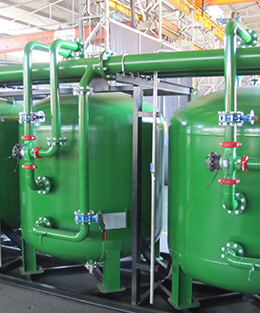 Storage and Atmospheric Tanks
VIOLA can manufacture most types of shop-built storage tanks in vertical and horizontal cylindrical or non-cylindrical; open top and closed top; flat bottom, cone top and/ or bottom, slope bottom and dished top and/or bottom configurations.
DEFINITION:
Storage or atmospheric tanks operate under no (or very little) pressure, distinguishing them from pressure vessels. The major design code for welded atmospheric tanks are API 650 and API 620.
APPLICATION:
For storage of liquids and fine-grained products for all types of industries.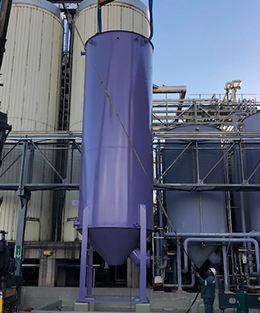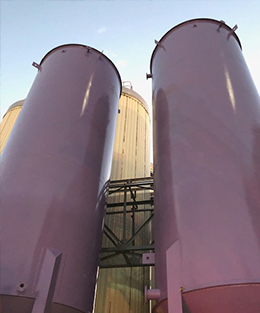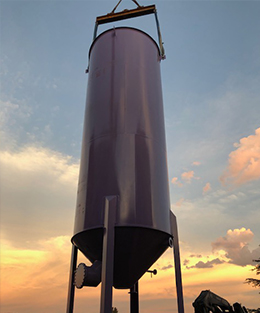 Other Products
Together with our engineering expertise, qualified personnel and top class facilties including Robotic welding facilities for serial production type items, makes us a versatile manufacturer that can design and fabricate a diverse range of other products from shell and tube heat exchangers, LPG storage tanks to architectural and decorative items.
APPLICATION:
Any welded steel fabrications required